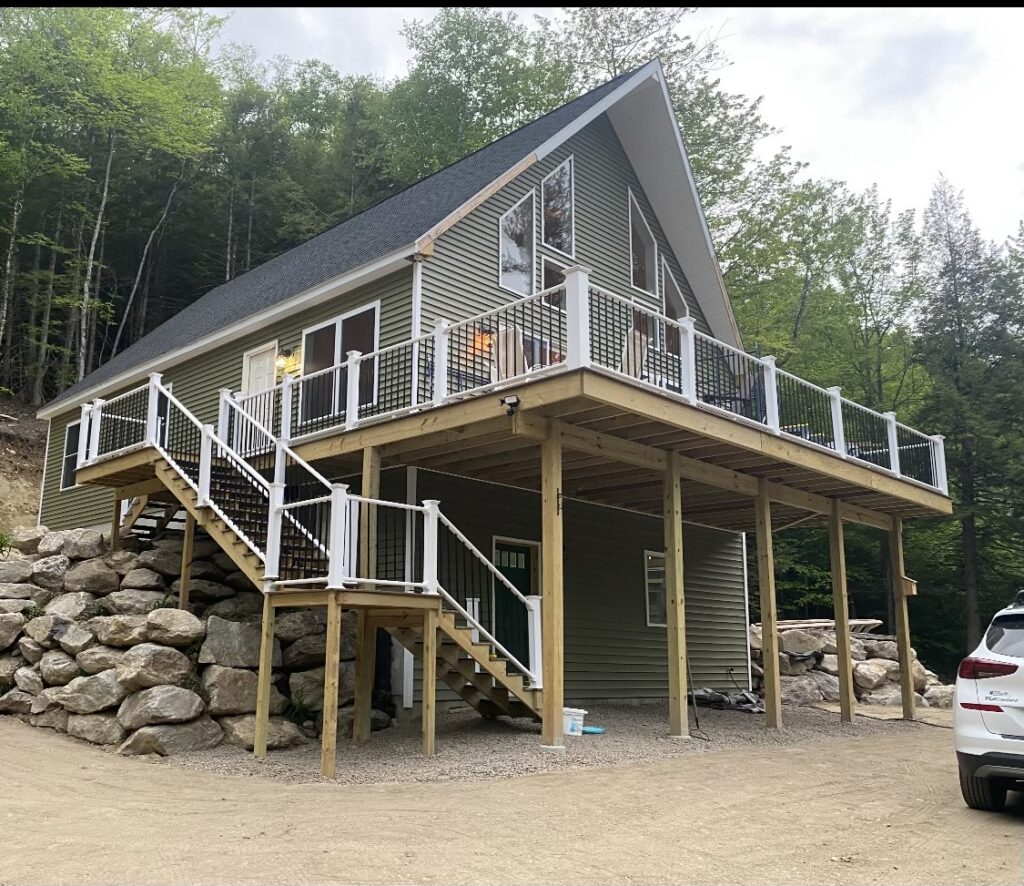 When searching for a modular home in early 2020; a process that took several months before deciding on Heritage Modular. The first thing that stuck out to me about Heritage was how quickly the representative (Corey Abbascia) got back to me. This was very noticeable because one the issues I had been having was actually getting someone to respond to my calls. I must admit at first I was worried that maybe this guy just isn't busy like the rest of the companies out there, but it quickly became apparent that was not the case, and that the company was just very good at communicating.
Corey was exceptional at responding to design changes questions and print updates, and also visited the construction site pre-delivery twice, as well as being on site for installation.
The delivery was on schedule
for the date we had discussed months in advance and the truck delivery guys did some pretty impressive uphill backing up to get the home in place for the crane.
I have had many questions after delivery on the best way to do different finish projects and Corey still takes my calls months after being paid.
I am very happy with the service provided and would highly recommend Heritage or discuss with anyone looking to use their services my experience.
Kevin West
I can't speak highly enough about Heritage Modular. Their service was impeccable throughout the entire process of building our new home. The moment we sat down with Corey to discuss options about building, we knew we found the place to do it. Corey made sure the process was easy to understand and that all of our questions were answered. He always responded promptly whenever we needed anything. To this day, a year after we moved into our new home, Corey still checks in with us to be sure of our satisfaction. There's no other company I would recommend more for your dream home than Heritage Modular.
The Lemaire's – Charlton MA
I am writing to tell you how pleased I am with the excellent work performed by Corey and the team at Heritage Modular Homes. We just completed a modular home on Cape Cod. We were impressed by the solid construction of the modular home. We found it to be more solid than many of the stick-built homes we viewed. There were so many benefits to building a modular home. Our home was not exposed to the elements during construction and the project completion was significantly quicker. We also saved about 30% on construction costs. Corey helped us design a modular home with all of the important details we were looking for in our home. He guided us through the steps and gave us all the options. The project was completed quickly and on time! These are two words that are not usually associated with a construction project, but Corey has completed many projects and knows what needs to happen in order to get things done on time. We are looking forward to enjoying our new home for many years. I recommend Heritage Modular Homes without reservation and I would be happy to talk with anybody thinking about doing a modular project. You will not be disappointed.

The Dolan's-West Dennis MA
Working with Heritage Modular Homes and PBS was a pleasure, start to finish. For us, this was modular building with a blank canvas: the manufacturer can accommodate nearly limitless customization of the modules. Corey was especially helpful as we hand drew our floor plans and gradually added detail like finishes. Since we did not want to hire an architect or designer, he helpfully advised us on these aspects (layout / design) in our plan–based on his long experience helping customers like us. Our process was highly iterative, as we refined our plan many times over many weeks and across multiple phone calls Corey was very responsive to us throughout–meanwhile PBS's manufacture was responsive to him, so the process proceeded smoothly and was ultimately completed on time. He is a true end-to-end manager, and the manufacturer does high-quality work. Would highly recommend Heritage Modular Homes PBS to anyone looking for a cost-conscious solution to home building. With cost savings of modular and the limitless customization options more common to stick-building, PBS was the clear choice.

The Tilley's-Concord MA

It has been our pleasure to be first time clients of Heritage Modular Homes. We discovered this company quite by happenstance as I, Susan Russell, grew up in Shrewsbury and my husband/business partner and I saw their sign while on a visit to my parents. And, I must say emphatically, we are glad we did! We had previously considered a contract for a duplex with another company in NH where we planned to construct this rental property and were only lukewarm about that company. After meeting Carl Abbascia and discovering what his company had to offer, we were "sold". We could not be happier with the quality of the design, design choices, amount of space, floor plan, construction and standard amenities. This experience absolutely dispelled all doubts that a pre-fabricated home might not be top-notch; in fact it was and far exceeded our stringent and particular expectations. We also believe that purchasing this duplex, all things being equal, saved us money. We can attest that many people associated with the completion of our duplex were equally impressed with the quality and dollar value. Lastly, I would like to add that the customer service and satisfaction provided by Carl and his son Corey, before and after the purchase was attentive, responsible, and supportive. They helped us tirelessly and patiently with the vast number of decisions and changes that were necessary and gave us pertinent advice that helped us tremendously as first time modular home buyers. They were always available to speak to us or to visit our construction site and 100% stood by their product and us as customers – we believe that we got what we paid for and then some. Our tenants love their new home and we love our new investment property thanks hugely to Carl and Corey Abbascia and Heritage Modular Homes. It comes as no surprise that we would recommend their company wholeheartedly to any interested clients and would be happy to speak in person to anyone who would wish to contact us. Should we decide in the future to build another rental property, it will be a Heritage Modular home.

Sincerely,
Susan Russell and Jim Donison
D and R Development, LLC

Working with Heritage Modular was the best choice we made to purchase our home. Carl and Corey were very helpful to us from designing our home to picking out and suggesting finishes. Any questions we had were promptly answered. The few problems we had were quickly taken care of.
All and all, it was a pleasant experience and we are very happy with our house. We suggest them highly.
Thank you very much Carl and Corey.

Donna and Jim Farnsworth